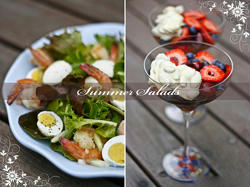 As the days stretch and warm up, the sunny, enchanting outdoors just scream at you to get out n have some fun. This weather calls for, entertaining and having parties in your backyard or poolside, by the beach or carry a picnic basket to the park. Cool crunchy salads are especially inviting at such time. These two salads are just perfect for any such occasion. Pretty leafy salads, delicate summer berries and chocolates are all essentials, as are fresh and healthy ingredients. Quick to prepare and easy to eat, looks impressive too
mathconcept
.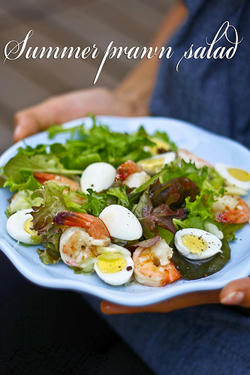 Prawn Salad with Quail Eggs
Serves 6
18 quail eggs
1 tsp Dijon mustard
1 tbsp roughly chopped tarragon
2 tbsp white wine vinegar
9 tbsp extra virgin olive oil
salt and freshly ground black pepper
30 raw tiger prawns, peeled
Juice of 1 lemon
1 bunch spring onions, trimmed and finely sliced
bag of mixed baby lettuce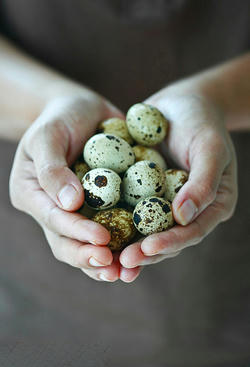 Place the eggs in a small saucepan. Cover with cold water, add a pinch of salt and bring to the boil. Cook for 2 mins then remove and cool under cold running water before peeling. In a small bowl whisk together the, mustard, tarragon, vinegar and 6 tbsps of olive oil. Season to taste and set aside. Clean the prawns – remove the heads and peel off the shells leaving the tail on. Run your knife down the length of the back and pull away the digestive thread. Rinse under cold water and pat dry with kitchen towel
Handmade accessories
. Now set a frying pan over a high heat and add the remaining 2 tbsps of olive oil. Season the prawns and briskly fry them in 2 batches, turning regularly, for about 3 mins or until pink and cooked through. Remove and dress with the lemon juice. Now in a large mixing bowl, put the slices spring onions, mixed lettuce, halved eggs and dress with the vinaigrette. Gently toss the salad together, mixing them evenly. Serve in individual plates, getting equal amounts of prawns and eggs in all of them.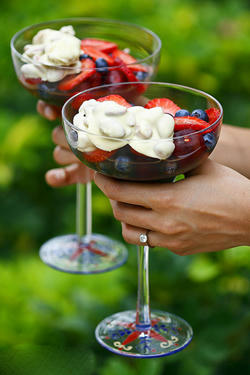 Chamomile Berry Salad with Chocolate Almond drops
Serves 6
200 gms white chocolate
100 almonds or walnuts
1 unwaxed lemon
200 ml water
3 organic camomile infusion tea bags
50 gms caster sugar
500 gms cherries and blueberries
800 gms strawberries hulled and sliced
Begin with making the chocolate almond drops. Lay some baking paper on a baking sheet. Break up the chocolate and place in a bowl and microwave for a minute, stopping in between to stir, as white chocolate burns easily. Mix in the nuts and using a teaspoon, drop 18 or more blobs of chocolate nuts onto the baking tray. Chill until set. Now finely pare the lemon zest with a potato peeler and place in a saucepan with 200 ml water. Bring to boil and cook briskly for 3 minutes, then remove from heat and add camomile tea bags
Next Generation Firewall
. Leave to infuse for 5 mins, strain into another bowl and infuse the sugar. Once dissolved and cooled and 2 tbsp lemon juice. Stone the cherries and mix together all the berries. Add the camomile syrup and serve with the chocolate drops.
PR