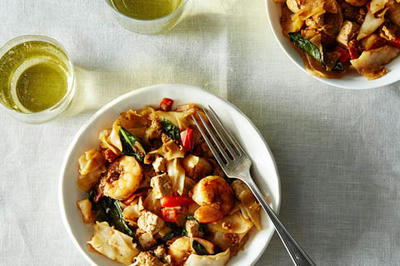 I have cooked for a few drunks in my day... and this recipe right here is a great one to accompany a beer or cocktails. Traditionally in Thailand, these noodles are served to late-night patrons to help sober them up. This dish is spicy, but you can prepare it to your own liking. My favorite drunken noodles are at the the "I Like Thai" cart in Portland, OR, and are all of $5, but when I don't want to drag my three-year-old son downtown, I make my own second place version that serves at least four noodle munchers. I have access to many Asian markets and I pick up my ingredients there, where they are usually cheaper and better quality, but most of these items can be found at your local supermarket du jour. After you have done your prep, this dish comes together quickly, so if you do your mise en place the night before, you could make this in front of your guests and even invite them to help, or just let them watch your stir-fry ninja skills! - Alexandra V. Jones
Food52 Review: WHO: Alexandra V. Jones is a self-proclaimed kitchen ninja.
WHAT: Go home noodles, you're drunk (with our favorite Asian flavors).
HOW: Use a mixture of powerful sauces -- soy, oyster, and fish -- and fiery chili garlic oil to douse a stir-fry of shrimp, fresh vegetables, and wide rice noodles.
WHY WE LOVE IT: We will gladly drink large amounts of beer if it means we get to sober up with these noodles. They'll be as good as the best drunken noodles you've had at a Thai restaurant -- and even if they only come close, at the very least you'll feel cool that you made them yourself. - The Editors
Serves 4
2 tablespoons thick soy sauce or hoisin
2 tablespoons soy sauce
1 tablespoon oyster sauce
1 tablespoon Thai chili garlic oil (if you can't find this, use sambal oelek or Sriracha)
2 tablespoons fish sauce
3 tablespoons peanut or canola oil
3 garlic cloves, minced
1 shallot, minced
2 eggs, whisked
12 medium shrimp, shelled and deveined, tails on
1 cup chopped tofu (I used fried, but well-drained raw tofu will also work)
One 12-ounce bag rice flake noodles, soaked in lukewarm water for 10 minutes and drained
1 red bell pepper, diced
1 cup packed basil leaves
Heat a wok (or the biggest skillet you have) over medium-high heat. In a separate bowl, whisk together thick soy sauce, regular soy sauce, oyster sauce, chili oil, and fish sauce together and set aside.
Add peanut oil to wok and cook the garlic and shallot until light brown, then add eggs and scramble together. Add shrimp and tofu and cook for 2 minutes, then add the drained noodles, bell pepper, and sauce mixture. Stir-fry for 5 minutes, add basil and cook for 2 more minutes, or until some of the noodles are a bit crisp on the edges. Serve with an ice cold lager or I.P.A.
PR