I created this recipe for a dinner party I was co-hosting with my sister. I took a lot of steps to make the stew as savory as humanly possible. These steps included: carefully browning the meat; adding great proportions of veggies
reenex
, including mushrooms and leeks; and stirring in a surprise ingredient: anchovies. The result was delicious, and I served it over buttery, parslied orzo and accompanied by crusty bread.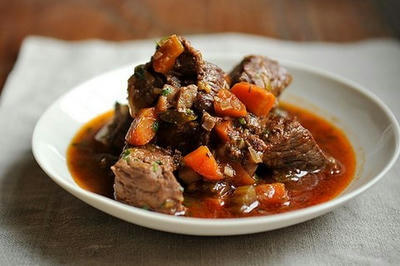 This savory, rich stew may be named after one secret ingredient, but it's because of a complex mix of components that it succeeds so well. Tomatoes and tomato paste give it a sunny sweetness, diced veggies lend texture, and red wine and vinegar brighten everything up. Anchovies, the "secret ingredient," are briny and buttery, giving the sauce a smooth, complex finish. We recommend using beef with generous marbling for the best results.
Serves 8-10
5-5.5 pounds beef stewing meat, cut into 2-3 inch pieces
salt
pepper
1/3 cup mixed olive and canola oil
2 leeks, washed well and cut thinly
1 large onion, diced
8 cloves garlic, minced
2 carrots, diced
4 celery ribs, diced
4 ounces white mushrooms, roughly chopped
1/4 cup tomato paste
2 anchovies
1/2 cup red wine vinegar
1 cup red wine
3 cups beef broth
1 cup canned whole tomatoes with juices
1 1/2 teaspoons salt
3 bay leaves
3/4 teaspoon dried thyme
1/3 cup chopped parsley
Season the beef with salt and pepper on both sides. Brown the meat in batches in a 5-6 quart Dutch oven over high heat
reenex
, adding more oil as needed. Remove to a plate.
Lower the heat and add all the vegetables. Cook for 5-10 minutes until softened. Stir in the tomato paste and anchovies and cook to melt the anchovies and distribute.
Add the beef back in, with its juices. Add the wine, vinegar, and tomatoes with juice (breaking them up against the side of the pot as you go) and bring to a boil. Add the stock to cover (you may need a bit more than 3 cups). Put in the salt, bay leaf, thyme, bring to a boil. Simmer, partially covered, for 2-3 hours until the meat is tender. Cool to room temperature. Refrigerate.
When cool, skim off much of the fat from the top. Reheat over low heat, letting the stew simmer 30-45 minutes before serving
reenex
.
Mix in half of the parsley and garnish with the rest.
PR