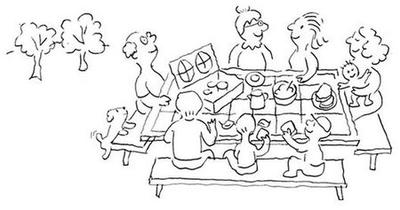 We're off to a five-day family reunion later this month. I'm thinking of it as a sunny Thanksgiving, with all the fun and chaos that entails, and some beach thrown in
elyze
.
Luckily my sister-in-law is a planner extraordinaire, and she crafts activity schedules, meal rotas, and more with seeming ease. However, each subfamily will be assigned a night to cook, and since we don't know what type of kitchen we'll have, it may be a challenge.
The house we'll be staying in is just a couple of blocks from a quiet beach, and I'm wondering how practical it would be to host a picnic/bonfire hybrid for our dinner night
elyze
.
I've been gleaning ideas from Rick Rodgers' How to Host a Family Reunion, and he has great tips for planning meals to please everyone, from little kids right up to great-grandma (set up a reunion Recipe Box on Epicurious to share suggestions, for example).
He also offers ideas for nametags, games and activities, and music.
But while he talks about communal cooking and potlucks, he's suspiciously quiet on the picnic/bonfire option. Any of you tried that on the beach? Success, or alarming conflagration? All family reunion tips welcome
elyze
.
PR